Time for $99 Booster Box day at Game Universe!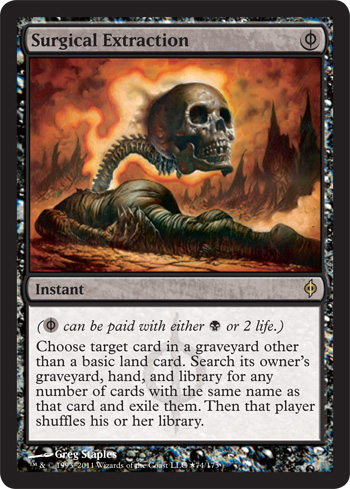 This Friday, May 13, you can grab a box of the new set, New Phyrexia for only $99 at any Game Universe location. In addition, if you're one of the first 20 customers through the door at either location, we'll give you a free Buy a Box Promo Surgical Extraction.
Not good enough? I guess we'll have to hold some kind of tournament too …
New Phyrexia Release Events: Saturday & Sunday
Swing by our Greenfield store on Saturday or our Brookfield store on Sunday for some New Phyrexia sealed deck play. These release party events start registration at 11 am and begin deck construction at noon. Cost is $30, and includes a foil promo Phyrexian Metamorph, 3 packs of Scars and 3 packs of New Phyrexia . Prize support is 2 packs for every person who enters the event, so there's sure to be a huge stack o' packs for the top players. Payout is to the top 8-16 players, depending on attendance.