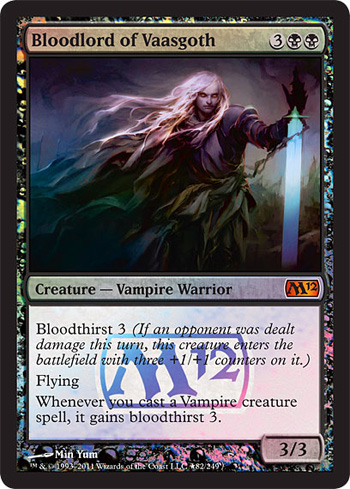 On July 9 and 10, Game Universe South and West will hold a series of Magic 2012 pre-release events to celebrate the new Magic: the Gathering expansion.
On July 9, our Greenfield store will host one Sealed Deck event at noon (registration starts at 11 am) and another at 6 p.m. For those who are interested, we'll also run 8-man drafts throughout the day. We have space to seat 70-80 people, so bring your friends!
On July 10, our Brookfield store will get in on the action with a Sealed pre-release at noon and a draft around 6 p.m. Seating for the Sealed event is limited to 40 so get there early!
The cost for sealed events is $30 and the drafts are $15. Prize support for sealed events is 2 packs for every person who enters the sealed events. 8-man drafts will be 8 packs for 1st place and 4 packs for 2nd.
All entrants in the sealed events will receive 1 copy of a promo 'Bloodlord of Vaasgoth' card while supplies last. We've got lots going on, so come early and play often! See you there!