On January 29 and 30, Game Universe South and West will hold a series of Mirrodin Besieged pre-release events the likes of which have never been seen!
On January 29, our Greenfield store will host one Sealed Deck event at noon (registration starts at 11 am) and another at 5 p.m. for those who want to get their hands on both. For those who are interested, we'll also run a draft at 5 p.m. On January 30, our Brookfield store will get in on the action with a Sealed pre-release at noon and a draft around 5 p.m. The cost for sealed events is $30 and the drafts are $15. Prize support for sealed events is 2 packs for every person who enters the event for sealed, and 1 pack per person for every person in the draft.
For Mirrodin Besieged Wizards has created special booster packs for you! When you sign up for the Prerelease tournament you will be asked to choose a side, Mirran or Phyrexian.
After you have picked which faction you will represent, you will receive your chosen side's booster packs to play in the Mirrodin Besieged Prerelease. You will also receive an exclusive promo card from your chosen faction (Hero of Bladehold for Mirrodin or Glissa, the Traitor for Phyrexia) while supplies last!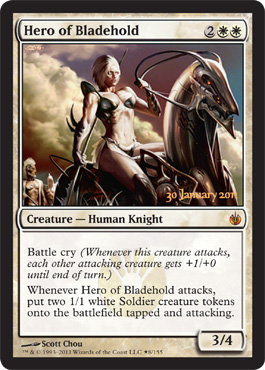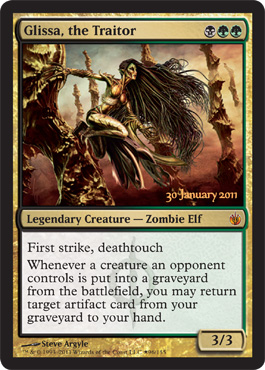 Pretty sweet, eh? Oh, if you want a specific faction for your Sealed deck, it's a good idea to arrive early since there is a limited supply of each faction's boosters, and we'll be letting people select factions on a first-come, first-served basis.