Are you ready for the greatest battle since the Brother's War between Mishra and Urza? Join us at Game Universe Franklin on December 26 for our 1st annual Day After Christmas holiday duel for Mishra's Toy Workshop!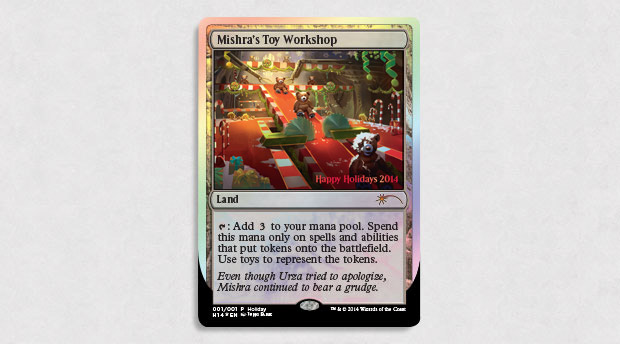 This event will take place in 3 parts. You may play in as many parts as you want, but to win the Mishra's Toy Workshop, you will need to accumulate as many match points as possible, so playing more games helps!
Noon – Booster Draft, 3 round limit, $15 entry
3 pm – Commander, 2 round limit, pods, Wizard's banned list, $6 entry
6 pm – Standard FNM, $6 entry
Prizes
Each event will have its own prize structure, which will be as follows:
EVERY EVENT: After each event, all players will be awarded 1 random promo card from our holiday sack.
DRAFT: $4 store credit for each player who enters, divided among top finishers in each draft pod. TO will announce exact prize divisions based on attendance.
COMMANDER: Being the last man standing in a pod will win you $3 store credit for each player eliminated. Being the last player eliminated wins you 1 standard-legal booster pack.
STANDARD CONSTRUCTED: Follows our normal FNM structure. Winning more than 2 matches gets you 1 booster pack, plus store credit if you are in the top 3 players.
OVERALL: The player with the most match points from all 3 events will win our 1 and only copy of Mishra's Toy Workshop!
Merry Christmas and happy New Year, from all of us at Game Universe!